If these days of your life seem busier than normal, you're not alone. Americans are working more than ever, with an average of 44 hours a week on the timestamp. When you come home, drop your bags and finally take a seat on the sofa, cooking an elaborate meal might just be the last thing on your mind.
However, grabbing prepared food at the market or snagging some to-go on your way home doesn't have to be the only solution to your problem. We're here to share that you can cook in a jiffy, and it doesn't have to be hard. With these 5 quick dinner recipes, you can save time cooking, conserve money and develop healthy habits along the way.
Why Go for the Quick Meal?
According to Michael Pollan's Cooked, Americans spend an average of 27 minutes a day in the kitchen. This is less than half the time spent back in 1965. The author attributes such a slash in cooking time to the rise of fast and prepared foods, ultimately rendering homemade meals as optional.
However, while cooking is definitely optional these days, Pollan makes a valid point.
"People are starting to realize that unless you cook, you can't control your diet, and you're ceding control of the important elements of your life to corporations that really don't care about your health." - Michael Pollan
So cooking is a way to take back control of your life, and cooking quick and simple meals is a way to do so without a lot of hassle. Perhaps the best part? You can maintain that under-30-minute parameter without giving up your health, money and overall well being to businesses that don't even know your name.
1.

Slow Cooker Vegetarian Chili
Slow cookers, or crockpots, are a beautiful thing. You can leave them running while you're out of the house, prep meals well in advance and let this magic machine do practically all the work for you.
With this vegetarian chili, the only duties that are on you are dicing a few veggies, pouring some stock, opening a handful of cans and measuring just a few key spices. To add to it, the ingredients this recipe does call for are easy to find, no matter the season. Garlic, onions, beans—these are affordable kitchen staples that you're bound to score with ease.
The process for this Slow Cooker Vegetarian Chili is simple, but more importantly, the outcome is well worth the effort. It'll feed a group with ease, or warm the bellies of 1-2 people with enough for leftovers. And if there were ever a reason to get home in a hurry, it'd be to savor the homely scent of a slow cooker that's been hard at work all day long—just like you.
Ingredients
1 red onion, diced

2 fresh tomatoes, diced

4 cloves of garlic, minced

1 15-ounce can black beans (drained, rinsed)

1 15-ounce can red kidney beans (drained, rinsed)

1 15-ounce can tomato sauce

1 15-ounce can diced tomatoes w/ green chilis

5 cups veggie stock (PRO TIP: cut down on food waste and expenses by saving your veggie scraps in the freezer and making stock when the pile gets high)

1 tbsp each chili powder, cumin, sugar (raw or coconut is best)

1 tsp salt

½ tsp black pepper

Avocado & cilantro (including stems) for topping
Instructions
Before work or sometime in the afternoon, add all the ingredients (except the toppings) to the slow cooker. Stir well.

You can either cook on high for 3-4 hours or cook on low for 6-8 hours, whichever setting suits your busy schedule. If you have a smartphone-compatible crockpot, you can even adjust the settings while you're out and about.

Serve with avocado, cilantro and any other toppings you find appealing!
When you're full, be sure to conserve your leftovers in a tight container in the fridge or freezer. This will allow you to save on money, time and environmental impact. By the time Thursday rolls around, you'll be grateful you held onto those leftovers.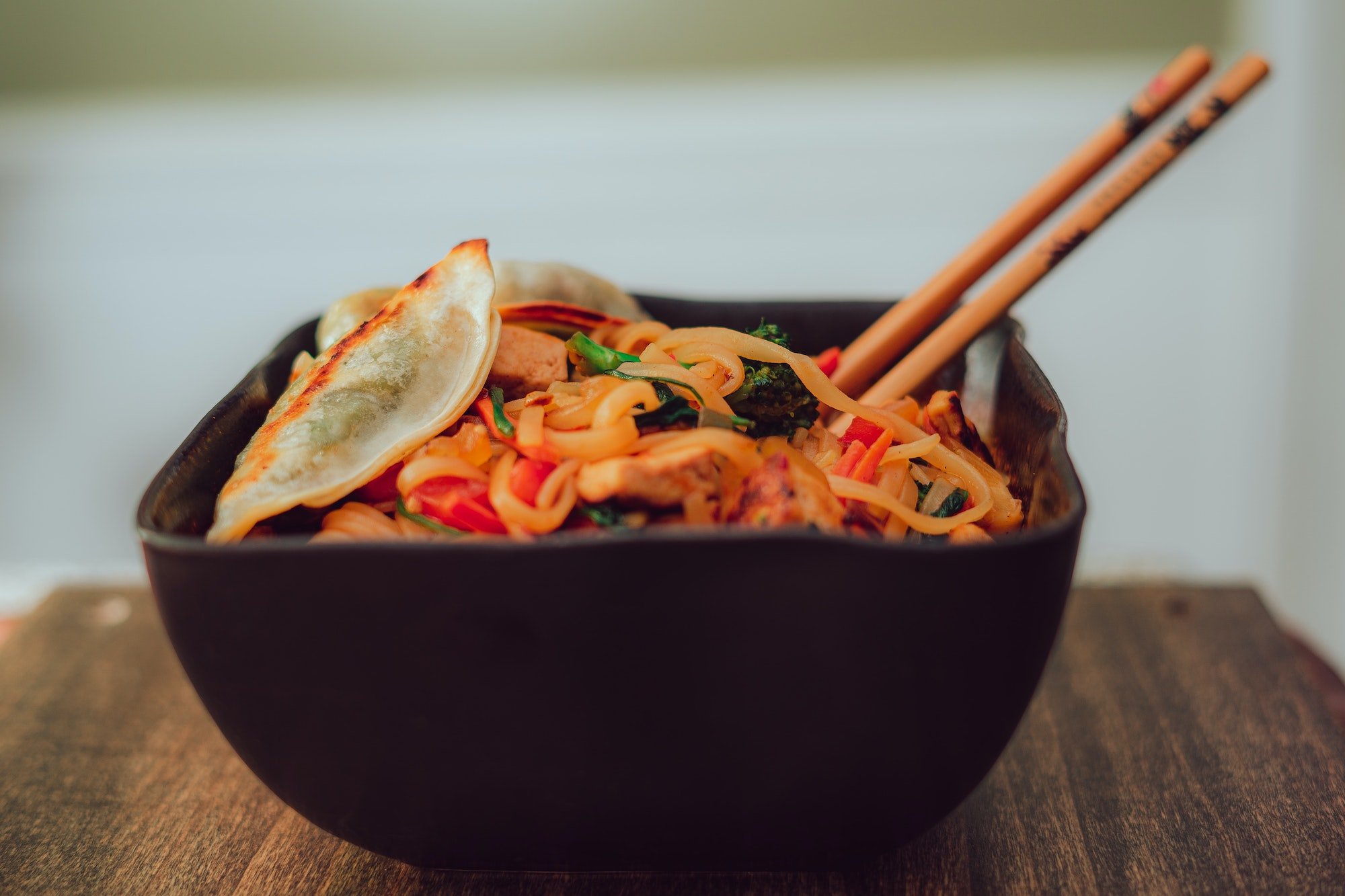 2. Easy Pad Thai
Thai cuisine is a beautiful thing—the seemingly effortless balance of spicy and sweet, the curated base that manages to take on a new aroma with every combination, it's all a drool-worthy affair. But what makes Thai food a perfect staple for the busy bee is not the intricacies, but the ease with which it can be prepared.
Pad Thai can be made a variety of ways. Add chicken or tofu, beef or seitan, whatever suits your cravings come dinnertime. You can even spice things up with extra veggies or mushrooms depending on what your fridge is packin'!
Once you get the Pad Thai technique down pat, you'll be whipping up this simple and flavorful concoction every chance you get. Your roomie or partner will have a whole new reason to look forward to dinnertime with you.
Ingredients
Vegetable or olive oil

2 cloves of garlic, minced

2 Thai chili peppers, chopped

1 cup extra firm tofu, cubed or 1 cup chicken breast, cubed

2 eggs, scrambled

1 tbsp soy sauce

8 oz rice noodles (fresh or dry)

Pad Thai sauce (store bought or 1.5 tbsp soy sauce, juice of 1 lime, 2 tbsp sugar, 1 tsp fish sauce & 1.8 tsp red pepper flakes)

Handful of bean sprouts, chopped green onions & crushed peanuts for topping

Sriracha sauce (optional)
Instructions
If making the Pad Thai sauce from scratch, combine all the sauce ingredients and whisk with a fork. Set aside.

If using dry noodles, bring a pot of water to a boil. At the just-boiling mark, add the noodles and cook until al dente (about 3 minutes). Once cooked, drain and immediately rinse with cold water.
In a hot wok or medium pan, add oil. Then, add cubed tofu until crispy, or chicken until cooked through (PRO TIP: for crispier tofu, press it with a heavy cast iron and towel for about 10 minutes. This helps get the moisture out before cooking).

Add garlic and chilis to the wok.

Add eggs and stir.

Add sauce mixture and stir. Then, toss noodles in sauce until they're cooked all the way through.

Serve with green onions, bean sprouts and crushed peanuts. Top with sriracha sauce for extra spice.
Cooking with fresh rice noodles is the Thai way to do it, but that doesn't mean it's the only way. By purchasing your noodles dry, you'll save money and avoid having an excess of food that you can't seem to use up. Clip it, cupboard it and be on your way!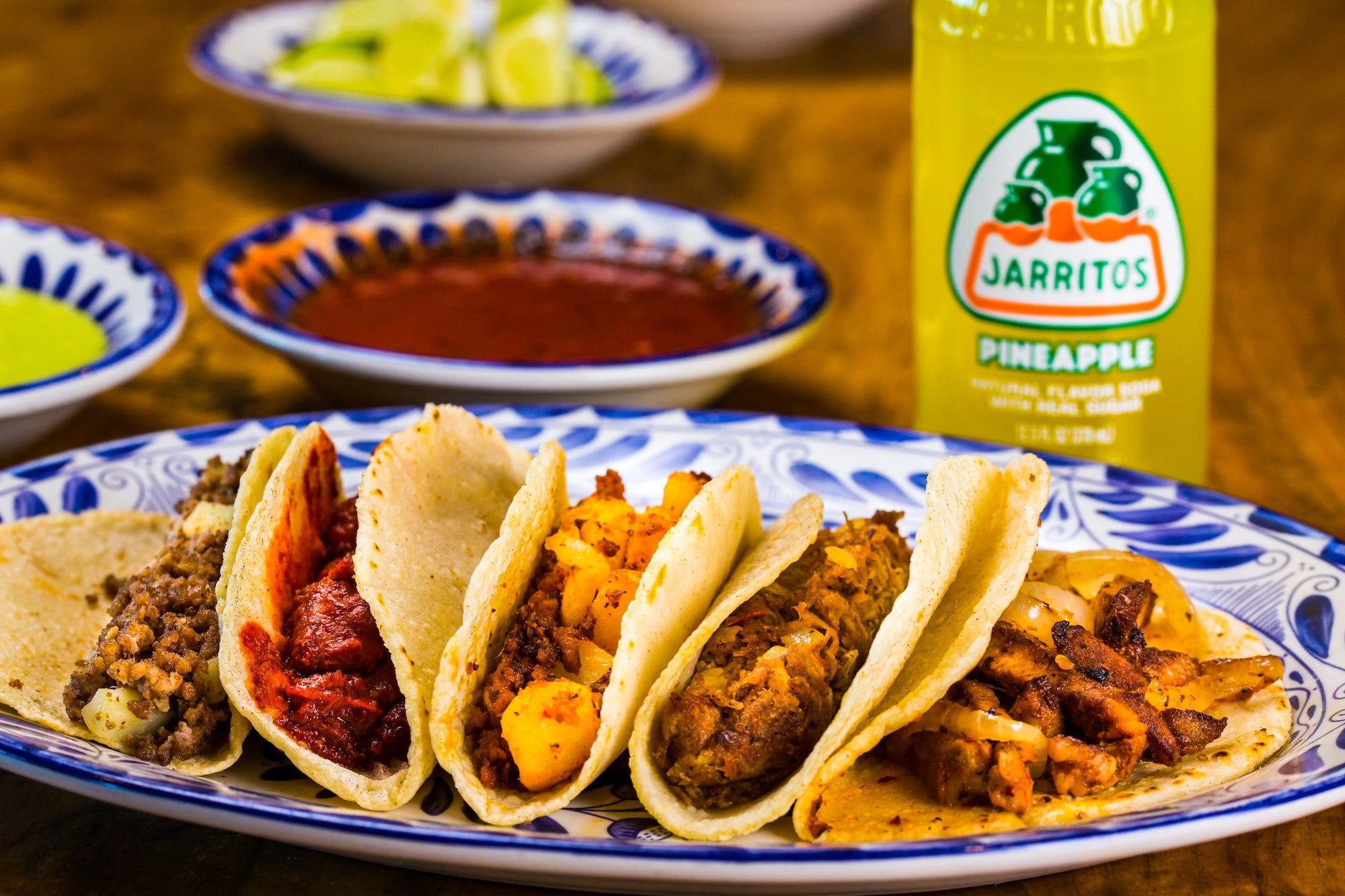 3. BBQ Jackfruit Tacos
Jackfruit is the biggest tree fruit in the world! With a maximum weight of 80 pounds (yes, you read that right), one of these can feed an entire small village. Moreover, it's teeming with fiber, which means it's great as an appetite suppressant or digestion booster.
Cooking with jackfruit doesn't mean you have to deal with a massive, messy fruit. You can easily find this fruit canned, without any additions to mess up the health of it. Because of its mild flavor and meaty texture, it serves as a great vegetarian substitute in traditionally meat-forward dishes.
These BBQ Jackfruit Tacos successfully imitate pulled pork, without the hassle of dealing with slow-cooked meat. They're quick, easy, delicious and—best of all—something that really goes against the grain!
Ingredients
Corn tortillas

1 tbsp olive oil

3 tbsp water

1 can jackfruit in brine

Salt & pepper to taste

1.5 cups barbeque sauce (store bought or

this simple recipe

from the New York Times)
Avocado & cilantro (including stems) for topping
Dollop of sour cream for topping (PRO TIP: if you're hoping to keep the fat to a minimum, substitute plain greek yogurt instead of sour cream)
Instructions
Drain, rinse and dry jackfruit. Shred the pieces slightly and heat in a pan with olive oil.

Add BBQ sauce and water to the pan, stirring enough so every piece is evenly coated. Add salt and pepper to taste.

Cover pan and simmer on low heat for about 15-20 minutes. Revisit the pan to shred with a fork as the fruit becomes more tender.

Toast tortillas until warm. Serve with jackfruit mixture, diced avocado, chopped cilantro and sour cream or yogurt.
If you're wondering where the heck you can find canned jackfruit, Trader Joe's has you covered! With locations all across the US, satisfying your newfound jackfruit cravings will come easier than you ever imagined.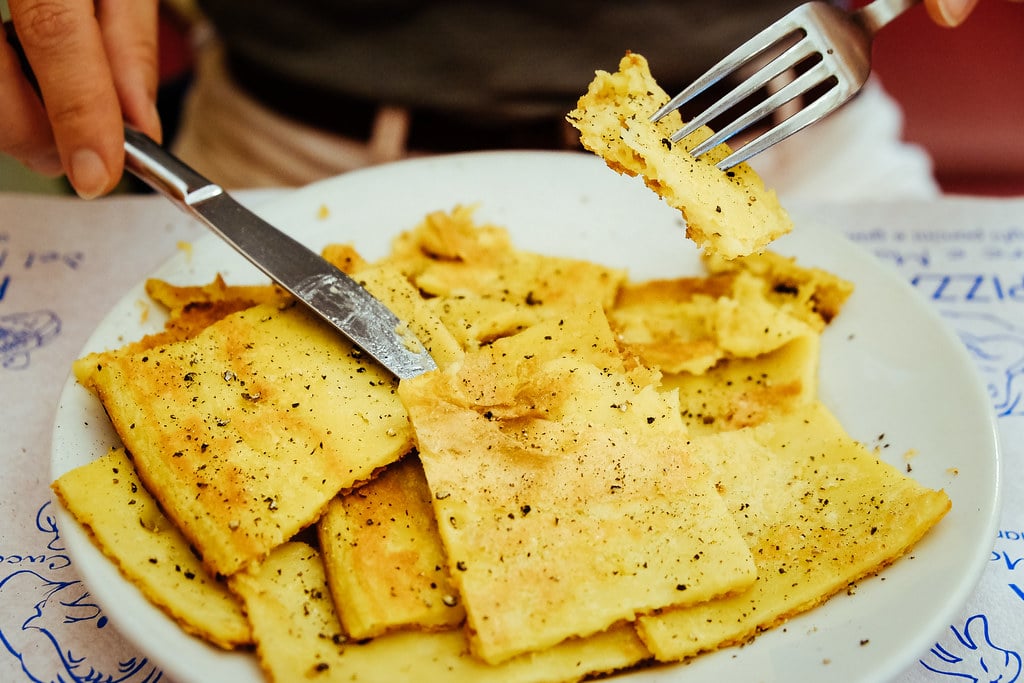 Photo by Stijn Nieuwendijk
4.

Mushroom & Bok Choy Farinata
Farinata may sound like a fancy name, but the premise of the recipe is easy as pie. Hailing from Italy, the gluten-free batter is just two ingredients, and the toppings can consist of anything you've got in stock! The base of chickpea flour is an affordable, wheat-free alternative to many a floury recipe.
As for the cooking process, this high-heat dish does well during the wintertime. Using the oven is a great way to warm up the house and the cast iron in one fell swoop. With a glass of red wine in your hand, you'll forget about that dropping thermometer in a heartbeat.
Take it from us: this Mushroom & Bok Choy Farinata will be the start of something new in your home. Once you've got the batter down, you'll be ready to switch up the toppings, making a new kind of farinata with every venture.
Ingredients

2 tbsp olive oil

1 cup chickpea flour

1 cup warm water

Salt & pepper to taste

Rosemary, chopped (optional)

2 cups mushrooms (baby bella, oyster or shiitake), halved

2 baby bok choy, chopped

2 cloves garlic, minced

Soy sauce (PRO TIP: substitute tamari or soy aminos to keep this entire recipe gluten free!)

1 tsp cumin
Instructions
Heat cast iron skillet in a 450 degree Fahrenheit oven.

While the oven is heating, mix the chickpea flour, water, salt, pepper & optional rosemary in a bowl. Whisk with a fork until combined.

Heat a saucepan over medium heat. Once hot, add 1 tbsp olive oil and mushrooms.

Once the mushrooms cook down a bit, add the bok choy, garlic, cumin and soy sauce. Cook on low heat until tender.

Once the oven and skillet are hot, remove the skillet from the oven with a sturdy mit. Pour in ½ tbsp of olive oil and half of the farinata batter. Immediately place in oven and cook for 10 minutes, or until crispy on the sides.

Remove the cake from the pan and repeat with the remaining half of the batter.

Serve by pouring veggies over the farinata. Top with herbs of your choosing (we think thyme goes great with this dish!)
If you don't own a cast iron skillet, consider investing in one! They last a lifetime and work amazingly well with a range of recipes. You don't have to worry about the presence of non-stick chemicals. To add to it, these things actually enhance the iron levels in your food in a healthy way.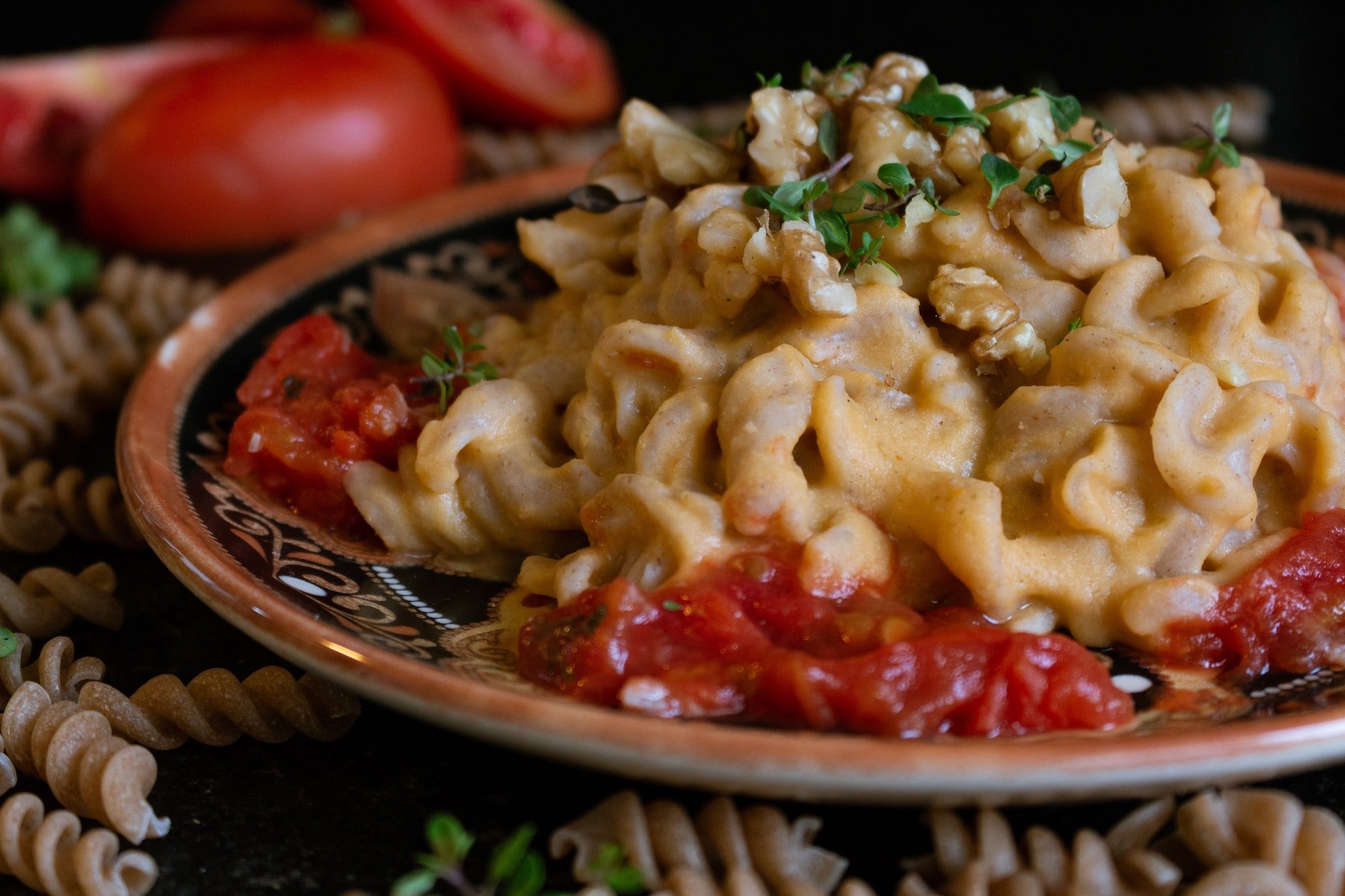 5.

Plant-Based Mac & Cheese
Mac & cheese is a classic American comfort food. It takes us back to our youth, reminds us that not everything needs to be complicated and gives us a reason to indulge, if only for one night. Making this staple plant based instead of drenched in dairy comes easier than you might imagine.
The sauce for this Plant-Based Mac & Cheese is simple, packed with veggies and calls for ingredients you likely already have on hand. It's also probably the closest thing to a cheesy flavor and texture we've ever found in non-dairy alternatives.
As for the macaroni part? That's just a boil-and-go kind of thing. When all is said and done, you'll have plenty of time to relish in a good movie or time with your loved ones at home, all while savoring every last bite of this too-good-to-be-true treat.
Ingredients
10 oz macaroni pasta (or shape of your choosing)

1 cup potato, peeled & roughly chopped

½ cup carrots, peeled & roughly chopped

¼ cup water

⅓ cup olive oil

2 tsp lemon juice

¼ cup nutritional yeast

¼ tsp each garlic powder, onion powder, paprika & mustard powder

1 tsp each salt & pepper
Instructions
Bring a pot of water to boil. Add pasta and cook until al dente. Strain and set aside with a bit of reserved pasta water.

Bring another pot of water to boil. Once boiling, add the potatoes and carrots. Cook until fork tender.

In a small bowl, mix water, olive oil, lemon juice, nutritional yeast, spices, salt and pepper.

Add cooked veggies and sauce mixture to a blender. Blend until smooth and creamy.

Add sauce to pasta. If the mixture is too thick, add some reserved pasta water until you reach the desired consistency.
Nutritional yeast is a clever addition to any dairy-free dish. Its hearty essence does well in lieu of cheese, and it gives you a serious boost in vitamin B12 to boot!
Kitchen Tips for Quick Prep & Cleanup
If you're going to become a quick meal connoisseur, you'll have to master the art of preparation and clean up. Here are a few of our favorite tricks of the trade, getting you in and out of the kitchen quicker than you can say dinner's ready!
Use leftovers to your advantage. Surplus food—otherwise known as excess produce and staples that would otherwise wind up in the landfill—is your friend! It eases the grocery load while giving you a base of ingredients to work with.
Have you heard of Lovvett? With meals made from premium surplus ingredients, this company sure has got the quick dinner recipe thing down pat.
Clean as you go! You wouldn't believe how much time you save in the wash-up department by simply scrubbing that pan as soon as you have the chance.




Keep pre-blended sauces (like Pad Thai or BBQ sauce) and spice concoctions on hand in the cupboard. That way, when it's time for your veggie stir-fry of the week, you can simply toss in a few spoonfuls of the good stuff and be on your way.
Dinner is Served... Already?
Quick dinner recipes like these can help you craft far more than five meals. Over time, you'll be able to switch up each one in unique ways, using up the ingredients you already have and adhering to whichever cravings come your way. With your quick meal tactics, you can take back control of your money, time and health—and make Michael Pollan proud while you're at it.
Whatever the case, if your partner isn't privy to your quick dinner magic just yet, we understand if you take all the credit. When all is served and eaten, some secrets are best dished for dessert.